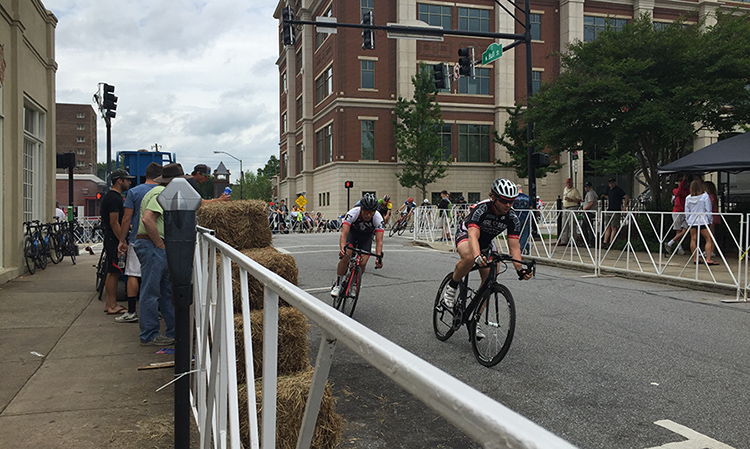 Scatterbrained, but for blogging that's OK
As I watch the main event of WrestleMania 31 again — which was highly underrated, by the way — I'm trying to come up with something fascinating to write. I figure it had been long enough since my last post and in order to keep whoever reads this blog entertained, I must keep on a relatively regular schedule.
My original idea for this post was going to be centered around the Athens Twilight Criterium that happened this past weekend in Athens, Georgia. I'd discuss how impressive it was to see those cyclists tearing around the city streets, then segue into my own experiences on a racing bike. I bought a Trek 2000 off Craigslist about six years ago in order to be able to compete in my first triathlon. Three triathlons and countless other rides later, I'm more comfortable "in the saddle" as they say, but terrified of tight turns.
Once that idea fizzled since I thought it would be a stretch to jump from Athens Twilight to my involvement in triathlons, I considered writing about wrestling and listing my favorite all-time matches. Then again, how popular is professional wrestling and who'd want to know my Top 10 includes Cactus Jack versus Triple H at Royal Rumble 2000, Stone Cold Steve Austin versus The Rock at WrestleMania 17 and Daniel Bryan versus Triple H at WrestleMania 30 (I was there), among others.
Then I pinged Todd for ideas and he suggested writing about something "off the wall," like food, my car or relationship with my sister. Well, I still can't find a good burger or sandwich in this town, my 2006 Honda Accord is running well but could use some body work and there isn't enough bandwidth to express how much I love and how proud I am of my twin.
So there you have it. I had three ideas for this post but none of them panned out.
But then again, that's OK. Scatterbrained is OK when it comes to blogging.
My goal when it comes to this blog is posting something of substance when it tickles my fancy. If I "mail it in" or don't really have a point, I don't want to post. It's as simple as that.