2
An Unforgettable Experience at the CONCACAF Gold Cup
Bucket List items, by definition, should blow your socks off.
No one says, "I really want to go to  the grocery store before I die." I mean, if that person was starving to death, sure, but in general they are more along the lines of going sky diving or traveling to an exotic country. It's a "Bucket List" for a reason.
While I don't have a Bucket List for my entire life, there are some things I'd love to see when it comes to sporting events. Going to an international soccer match was on that list. Whether it was inside the United States or outside of the borders, it didn't matter. I just wanted to be in the atmosphere and feel the thrill of it all.
Consider that item crossed off as I went to the semifinals of the CONCACAF Gold Cup in Atlanta last Wednesday. Two matches for the price of one. Can't beat that.
In an effort to flesh this experience out fully, I'll break this post into two sections. In the first, I'll discuss the atmosphere (tailgate, crowd, etc) and the second, the game.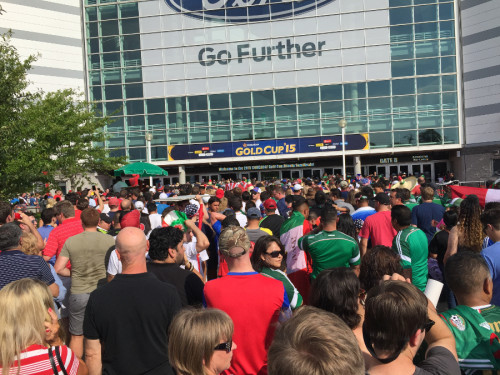 Everything I Could Have Imagined
As soon as we parked and stepped outside the car, we became immersed in a wild, multicultural party outside the Georgia Dome. Everywhere you looked you saw a group of Americans next to Mexicans next to Panamanians and some Jamaicans. Country blended into rap, which blended into Tejano and salsa and steel drums. I probably don't have to mention the mix of languages, since it's easy to figure out.
Inside the stadium, the demographic was more pronounced. I'd say 70 percent of the crowd was Mexican, 25 percent was American and the rest were a mixture of Jamaicans and Panamanians. For as boisterous as the American Outlaws say they are, Mexicans fans put them to shame. Even when Mexico trailed Panama late in the second half, the Mexicans were in full voice. The same couldn't be said for the U.S. contingent as soon as Jamaica scored its first goal off an inexplicably missed header.
Where the Mexican fans lose points, however, is the lack of class it showed most of the game. Either with pointed chants and especially throwing trash on the pitch. It wasn't every fan in attendance doing these things, but it left a sour impression.
Second match in a row throwing debris on pitch. We shall see if Panama can make Mexico pay like Trinidad and Tobago. pic.twitter.com/N0VVzfqRbt

— Tyler Mayforth (@tylermayforth) July 23, 2015
Overall, the atmosphere rocked. It was exactly what I imagined it to be.
So About Those Matches…
Where do I possibly start?
By the time we reached our seats, the United States Men's National Team was on its heels. A short time later, Jamaica scored on that lousy throw-in and there was no energy left in the Georgia Dome at all from the American side. It was eerily silent.
From talking to the supporters around us, it was evident the USMNT didn't come out with much emotion or urgency and we saw it with our own eyes. Their attacks were one step behind and Jamaica intercepted each pass over the middle. If there was a back line out there for the USMNT, I didn't see them. Wait, there was one?
Then there was that beautiful free kick from Jamaica that descended the American faithful deeper into a sense of shock. Just take a look at this goal. Truly unstoppable.
Giles Barnes' perfect free kick doubles Jamaica's lead over the #USMNT. #GoldCup2015 http://t.co/1GKrOHK31M

— FOX Soccer (@FOXSoccer) July 22, 2015
There was a glimmer of hope early in the second half when Michael Bradley scored to bring the USMNT within 2-1. It wasn't a gorgeous goal, but gave them some life.
From there, however, the USMNT had other chances but couldn't capitalize. Such was the story of the USMNT against an average goalkeeper in net for Jamaica.
That's where the night ended, right? I mean nothing notable happened in the second game. The referees were fair and allowed Mexico and Panama to play a clean game.
You could tell the fix was in from early in the first half and it was incredible to watch Panama fight through all of that adversity and come within seconds of the upset.
Panama is playing four men down. Getting to PKs will be a victory for them.

— Tyler Mayforth (@tylermayforth) July 23, 2015
Valiant effort by Panama playing down a man (or four, depending who you ask). Spacing much better on defense minus 1 man versus full squad.

— Tyler Mayforth (@tylermayforth) July 23, 2015
That's really all I'll say about the second match, but here are some videos from it.
There's the equalizer. #GoldCup2015 pic.twitter.com/ZYs7Oeytsp

— Tyler Mayforth (@tylermayforth) July 23, 2015
The winner? #GoldCup2015 pic.twitter.com/Pl72q9474I

— Tyler Mayforth (@tylermayforth) July 23, 2015
Wrapping It Up
All in all, I had a blast. It was an unforgettable experience and I'd do it again in a heartbeat. Maybe next time the United States could win. That would be dandy.