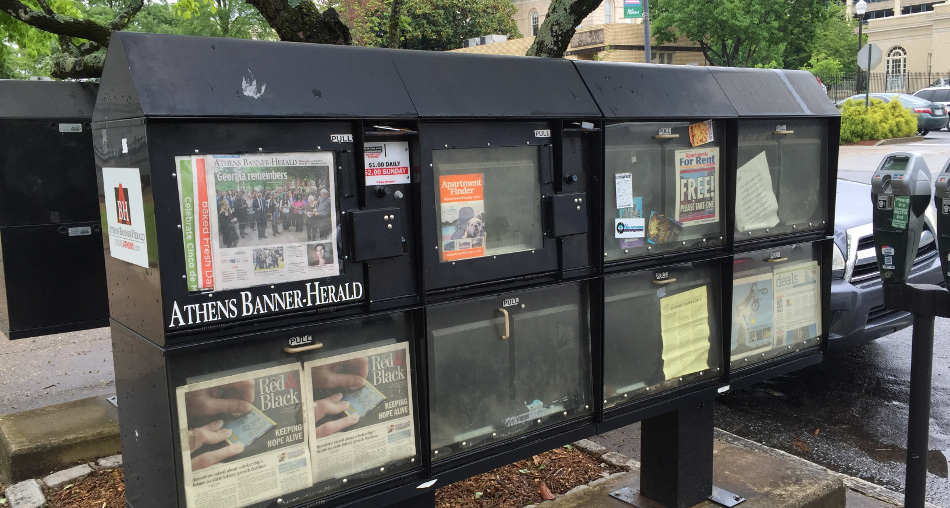 The Perfect Headline Brings It All Together
A designer's best ammunition — or worst nightmare, depending how you look at it — is an empty budget. It means free reign on content and the all-important centerpiece, but it could also spell disaster if you don't know what news should fill your pages.
Such a scenario presented itself to me on Sunday.
Left to paginate the entire Banner-Herald, I had a budget for news but not sports.
I did a quick perusal of the AP Sports Digest and wrote down some items I knew should get in — the Braves-Brewers game, a standalone photo of the Hawks-Cavaliers game since it would finish too late for print, an online tease for the Coca-Cola 600 and the Indianapolis 500.
Saturday and Sunday each had high school baseball as the centerpiece, so putting the Braves there was overkill in my opinion. I needed something big to happen.
A few hours before deadline and just before I went to dinner, former Georgia golfer Chris Kirk won the Colonial when Ian Poulter couldn't eagle the par-4 18th. Perfect! Based on how much our readers love golf and the Bulldogs, it would work well.
Then I began thinking about the design and knew I wanted to go vertical with it since a few of my previous pages were horizontal. I picked good art of Kirk, but found myself stuck in a rut.
How was I going to play this? What can I package?
After thinking a bit, I stepped away from my computer and began to walk out the door for my long-awaited meal. Then I stopped in my tracks.
I sat in front of my computer and looked through the art I pulled. The best picture I had of Kirk was him kissing the champion's trophy. What about art from the Indianapolis 500? Sure enough, I grabbed a picture of Juan Pablo Montoya kissing the bricks.
Kirk would go large; Montoya small.
I needed a headline for it all to make sense.
It didn't take long for the idea to pop in my head.
"Sometimes there is nothing sweeter than … A CHAMPION'S KISS"
Check out the page. I thought I did a good job with it.
@ABHSports: Former Bulldog Kirk (#ColonialGolf) and Montoya (#Indy500) sealed Sunday wins w/ a kiss. @APSE_sportmedia pic.twitter.com/JVFG8o5aHg

— Tyler Mayforth (@tylermayforth) May 25, 2015