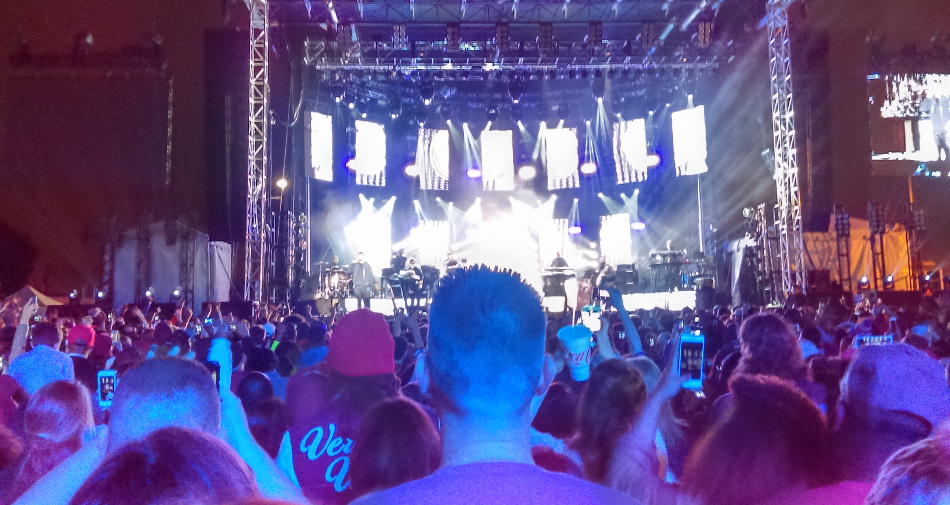 Macklemore, Usher and New Orleans, Oh My!
I love live performance art.
Musicals? Been to several Broadway shows in my life, including The Lion King when it was sold out for months on end during its hey-day (Thanks a bunch, Grandma!).
Plays? Don't get me started on Dickens  (My family still laughs about it).
Professional wrestling? Yes, that counts. It's so different in person than on TV.
Let's not forget about music, which is the crux of this blog post.
There is just something about live music that I can't get enough of. Sure, you can listen to a song but until you hear the artist perform it live, you can't feel it — if that makes any sense at all. Probably not, but you hear and internalize it differently.
Living in New Orleans has immersed me into the live music scene like no other. For as great as Athens is purported to be, it doesn't hold a candle to The Big Easy. Now I know that's apples and oranges, but the best part about New Orleans is that most of the music here is free (other than festivals like Jazz Fest and Voodoo Fest, et al).
These past three weeks kicked some major butt when it comes to free live music.
On December 30, the Sugar Bowl brought Usher to perform during their Fan Fest. That was within walking distance of my apartment and words cannot describe how great of a performer he is. Not only does he sing incredibly well, he can dance with the best of them and engage the crowd. I had no idea I knew so many songs by him until I sang and danced along to pretty much every song he performed that night.
Free concert featuring this guy tomorrow? And it's within walking distance? Don't mind if I do. #UsherLiveAllstate pic.twitter.com/juPzhQ4yyl

— Tyler Mayforth (@tylermayforth) December 29, 2015
That Usher concert was on-point last night. #UsherLiveAllstate pic.twitter.com/K7idOe94Bu

— Tyler Mayforth (@tylermayforth) December 31, 2015
Then on a random Sunday in January, Macklemore and Ryan Lewis brought down the house inside the Civic Theater and I was there to witness it. Earlier in the day someone from the kickball team mentioned it was free and there could be tickets remaining. Sure enough, they wanted to pack it and make sure it was "live" (as the cool kids are saying these days) for the webcast (which was the reason for it).
Free Macklemore concert? Don't mind if I do. pic.twitter.com/WzSYCKXqj8

— Tyler Mayforth (@tylermayforth) January 18, 2016
"The Heist" is easily one of my favorite albums of all-time and I can't tell you how many times I listened to it while driving from Texas to Georgia and everywhere else since it was released. From the first time I heard it, I could tell Macklemore doesn't just do music to do it. He lives it. He breathes it. It means something to him. Seeing him live on a random Sunday night in New Orleans cemented that idea.
Macklemore poured just about everything he had into the show and it showed. The crowd hung onto every word that came out of his mouth. And you could tell after he wrapped up "Same Love" and "Starting Over" that he bared his soul to the crowd.
Music is just incredible.
Maybe I'll share the story about the time I graced the stage in college. Just maybe.