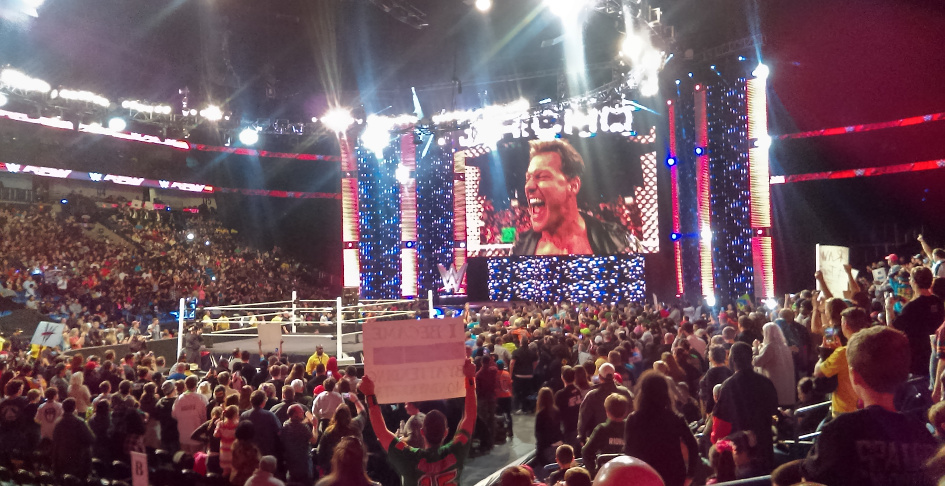 1
That Was RAW-esome!
Nearly two hours into our excursion to Monday Night RAW last night, WWE ring announcer Lillian Garcia proclaimed that it was time for the fans to pull out all of the signs they brought to the Smoothie King Center and to show them off.
Needless to say, it was my time to shine. Yes, I created signs.
Before I go any further, I'll freely admit that professional wrestling is my guilty pleasure. Go ahead and watch the following video and see if you're appreciation for the physical performance art doesn't grow a few times (like the Grinch's heart).
I bought some double-sided foam board and on one side, it read "The Beast Is Back" in homage to Brock Lesnar's return to the WWE after a three-month haitus. On the other side — after much deliberation — I wrote "I Love #Booty," which refers to the stable The New Day and one of their catchphrases, which is simply "That's booty."
I looked at my friend Jon — who also plays on the kickball team — nodded and stood up to display our signs. His read "I'm Missing The Bachelor" on one side and "Bring Back Mizdow" on the other. We gave it a few minutes of thought on Sunday night.
Sure enough, the camera pans over to me and I go nuts. Garcia reads my sign, I cheer even louder, smile and give a thumbs up. Jon gets in the shot, too, and we just soak in the moment. The camera had to be on us for 10-15 seconds. People around us were laughing and I'm pretty sure I heard a "Booty" chant start. Unfortunately the third person we were with (Karlie) went to the concession stand at the time and when she came back, she bemoaned that as soon as she heard that it was time for "Sign of the Night," she knew we'd be on. We could have had pictorial or video proof that we were on the big screen, but you'll just have to take my word for it.
That was so much fun. Had a blast at #WWENOLA tonight. Group pic! pic.twitter.com/AUwruQj1kH

— Tyler Mayforth (@tylermayforth) January 12, 2016
See those folks in that picture? Those are the people who make nights like these.
If I had to really break it down, I would say that 51 percent of my adoration for professional wrestling comes from the performance art aspect of it all. That other 49 percent has EVERYTHING to do with the company I keep at these events (whether I know them or not). Just like every other sport or art, you're pulled together by a common bond. You get a completely different feel for it when you're there LIVE as compared to watching on TV in the comfort of your own home.
I knew I was going to have a good time at Monday Night RAW, but those two folks I shared the experience with (Karlie and Jon) made it GREAT.