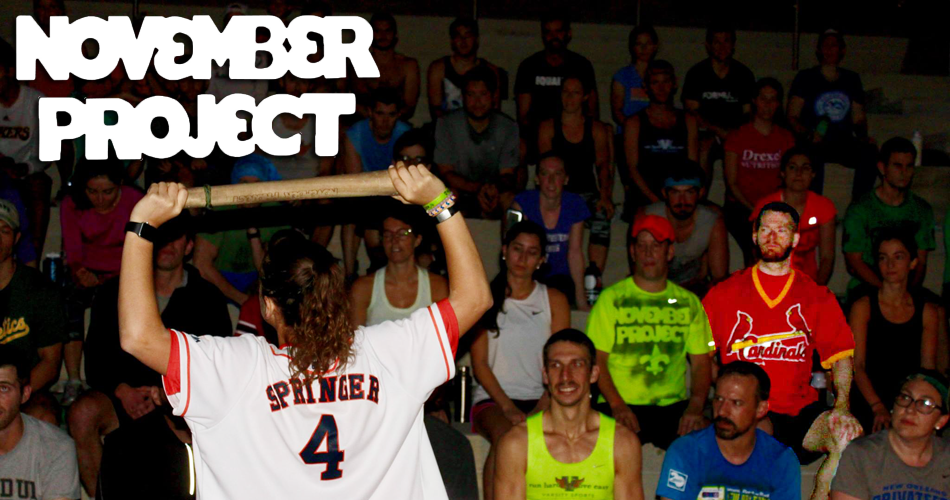 Baring My Soul For November Project – New Orleans
Earlier this week, the co-leaders from November Project-New Orleans presented me with the Positivity Award, which is given out to a member who isn't necessarily the fastest or loudest, but is a steady influence at workouts and does his or her best to promote and grow the November Project movement.
November Project allows members to write guest blogs and I took this opportunity to bare my soul a bit about how much the organization – and those involved with it – mean to me.
I'll link to it here and copy and paste what I wrote underneath it.
Humbled – Guest Blog By Tyler Mayforth (NOLA)
Surprised.

Speechless.

Humbled.

Those are just a few of the adjectives I could use to describe myself when Mia bestowed me with the Positivity Award on Wednesday. I'm sure anybody else who received the oar in the past felt the same way once their name was announced in front of the group.

Mia explained that one of the biggest reasons she and Glenn chose me was because of my relentless promotion of November Project – or myself, depending on how you look at it – on my social media channels. If you're my friend on Facebook or follow me on Instagram or Twitter (I'm easy to find if you search for my name), just about every Wednesday or Friday I'll post something NP-related from that morning's workout. Those sunrises on the lakefront are too beautiful and the images our fearless co-leaders capture of us are too good not to share.

Social media comes easy for me, like it does any Millennial. It's also in my job description at work, so there's that.

The unbridled joy – and smile on my face in just about every single one of those pictures – doesn't. At least it hasn't in the past.

That changed when I was introduced to November Project back in January.

Ever since I graduated college, I lacked structure in my life. I had it as a college athlete at the University of Delaware, but after that, nothing. I worked odd hours in newspapers and got too reckless in my spare time. Can't say I was too proud of my decisions from ages 23 to, let's say, 30 (I'm 32 now, for those wondering).

Once I moved to New Orleans in August of 2015 and started my first 9-to-5 job, I knew something had to change. If it didn't, The Big Easy would chew me up and spit me out.

First, I found a gym. Fitness is a huge part of my life.

Then I signed up for kickball. The competitive fire in me will never die and I couldn't think of a better way to make new friends.

Ten months ago, the best of both worlds came together: fitness and friends. Better yet, fitness and family.

It may sound cliche, but November Project does become family. Visit another city with November Project and you'll see that first-hand. I traveled to Chicago last month to cheer on former New Orleans NPer Allison Rogers in the marathon and attended four different NP functions: a sign-making party on Saturday, the Cheer Station at mile 22 on Sunday, the post-race party on Sunday night and the pop-up workout on Monday. I felt welcomed at every turn. Plus, you wouldn't believe how many people – runners included – yelled "November Project" or "F–k yeah" throughout the day on Sunday as I traversed the Windy City to find different vantage points.

I wake up at 5:30 am just about every Wednesday and Friday because I know all of you will be there ready to push yourselves up and down the ramps, steps and everywhere in between at Champions Square as well as up and down those levees (That we devour for breakfast) at the lakefront. Plus, I also want to hold myself accountable – something I failed to do for far too long. Don't tell anyone this, but I'm a morning person now.

And perhaps two of the best things about November Project are that it's free (I mean, you pay for the gas it takes you to get to and from the workout site, but that's it) and you get out of it what you put in. I am continually surprised at the lack of affordable gyms in New Orleans, but November Project lets you sweat away those calories while running and doing bodyweight exercises free of charge, at your own pace.

If you read this far, I owe you a high five or a hug. Your choice.

Above all, thank you for accepting me for who I am.

Thank you for pushing me to become a better man.

Thank you for being awesome.