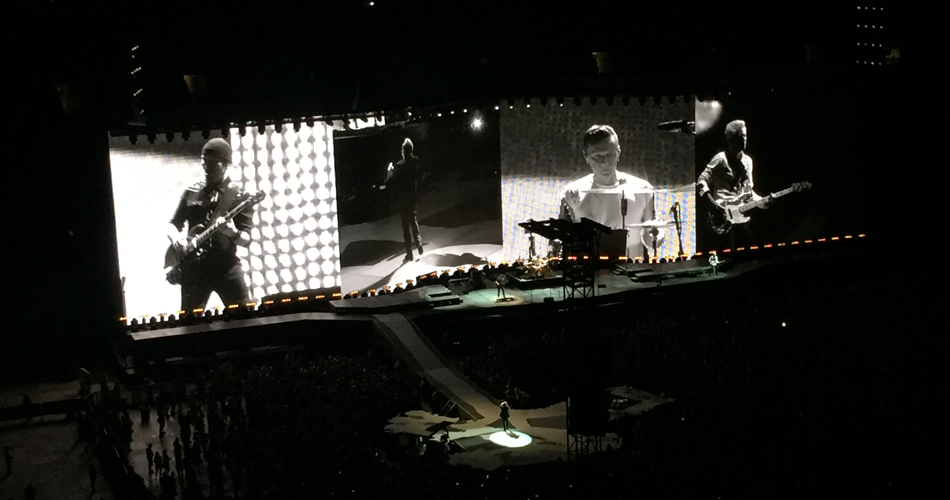 Seeing U2 In Concert In New Orleans
Emotional.
Surreal.
I can only use those two words to describe what it was like to see U2 in concert at the Mercedes-Benz Superdome last night in New Orleans.
I bought my ticket on a whim earlier in the day after I saw how cheap they were on StubHub ($21 plus fees). I also didn't know just how much of their set I would be able to watch since I had another obligation earlier in the night (kickball).
We had the kickball playoffs and if you read my last post, you would have seen we were kickball champions, so we had a reputation to uphold. Our season didn't go as well as we hoped, which left us as the No. 9 seed. That meant we would have to play four games in two weeks to win the championship once again.
That didn't happen. We got knocked out in the play-in round.
As much as it pained me to lose (I am way too competitive for my own good), I knew I had the U2 concert to look forward to and hustled home to shower and hurry over to the Superdome, which is in walking distance to my apartment.
Fast forward two hours and I left the Superdome with a huge smile on my face even though I had been put through an emotional wringer.
My mom and dad are huge U2 fans and played their albums throughout the house as my sister and I were growing up. I don't have much recollection of "Joshua Tree" with it coming out when I was two-years old, but "Achtung Baby" and "Rattle and Hum" stick out in my mind quite a bit.
Yet, during the concert – better yet, the 30th anniversary celebration of "Joshua Tree," – I found myself captivated by the album I only heard in passing. I sung along with the first three songs they played off the album – "Where The Streets Have No Name," "I Still Haven't Found What I'm Looking For" and "With or Without You" – and melted away into the smooth refrains of the others.
And when Bono spoke about strong women near the end of the set, I clapped, cheered and teared up when he mentioned mothers. My mom is the strongest woman in my life and I don't know where I'd be without her. If you find this blog mom, I want you to know that every day if I don't tell you.