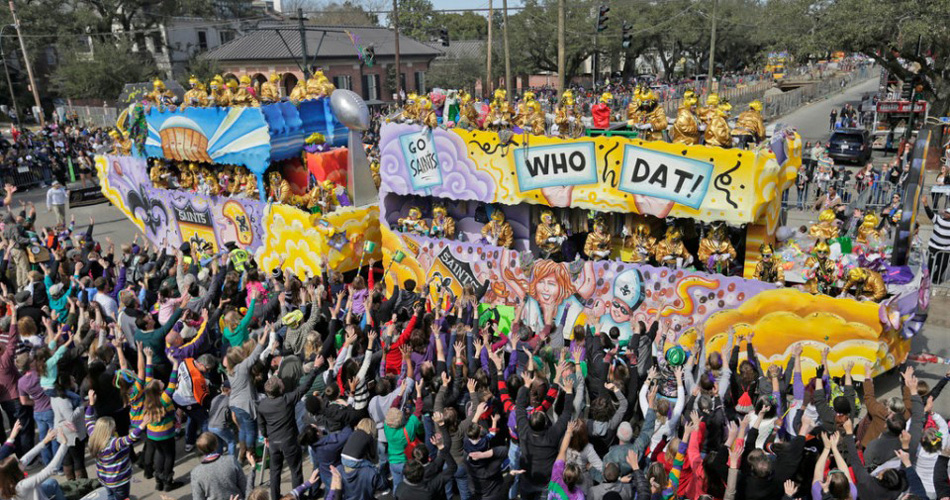 Recapping My First Carnival Season In New Orleans
Of all the things I heard in the first few months of moving to New Orleans after accepting my current job with the U.S. Track & Field and Cross Country Coaches Association (USTFCCCA), the most reoccurring refrain was "Just wait til you experience your first Mardi Gras." More often than not, the next statement someone uttered would be, "Be careful: It's a marathon, not a sprint."
Like many Mardi Gras neophytes, I figured Mardi Gras, as a whole, was just one big celebration on Fat Tuesday. I couldn't have been further from the truth if I tried.
While Mardi Gras is technically the day before Ash Wednesday, Carnival is a two-week-long celebration that features nearly-daily parades run by krewes throughout the city — mainly along the same routes that pass along St. Charles Avenue.
That's where the marathon-not-a-sprint aspect comes in — well, at least one part of it. The other part is to pace yourself if you enjoy adult beverages, because a bender of an extraordinary length isn't fun for anybody and downright unhealthy.
Without further ado, here are a few takeaways from my first Carnival in New Orleans.
Every parade or krewe has its own special flavor. From Tucks' satire to Endymion's audacity, there is something to behold and something special to catch from each one. For example: Tucks threw out bedazzled plungers and toilet brushes; Muses threw tricked-out shoes; Zulu hurls coconuts.
This one might be a no-brainer, but Bourbon Street is chaos throughout the two-week span. I walked down it a few times and was invited to check out a balcony party on Monday night and everything you hear about the lewdness and outrageous behavior on Bourbon Street is absolutely true.
Doing Carnival activities solo can be fun, but it's better in a group. There is nothing like staking out a spot to stand and collectively try to catch all of the stuff thrown your way.
Walking. Oh, my! The walking. I think I wandered an average of eight miles over the last four days of Carnival. At least I live central to most things.