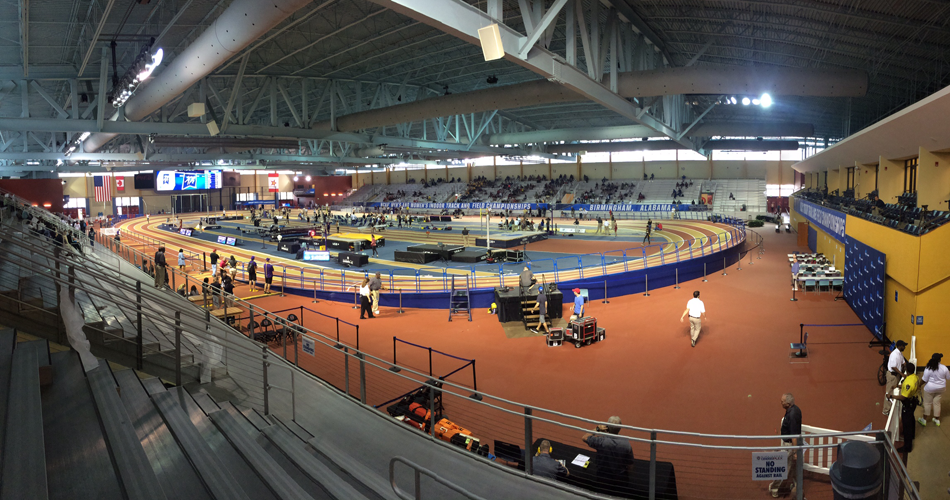 NCAA Indoor Championships and My (Lack Of) Top-End Speed
The conversation started innocently enough.
The NCAA Division I Indoor Track & Field Championships ended just a few hours before and my coworker and I were wrapping up some work for the USTFCCCA inside the press box at the Birmingham CrossPlex (a fine facility, if I must say).
I looked down at the track and asked him, "How fast do you think I could run a 60?"
"Right now," he asked.
"Yes," I responded. "Just like this. Minimal stretching. Wearing what I'm wearing."
"Nine seconds."
Gauntlet thrown. Challenge accepted.
Less than 10 minutes later, I crouched at the starting line.
When I got to the NCAA Indoor Championships, I recalled it was my first time at an indoor track & field meet since my final race as a Delaware Blue Hen in 2007.
I never ran a straight-up 60 in my life, so it was going to be an adventure.
On your marks… Go!
I shot out of the blocks and sprinted down Lane 5.
I heard the faint whistle of the air as I hit my top speed and crossed the finish line.
"What did I run?"
"What do you think you ran?"
Before I could answer, a media member ambled out of the press box.
"I had him at 8.55. What did you get?"
"8.76."
"That sounds right. I started my watch right after he started."
Let me put my blazing speed in perspective for those uninitiated.
If I ran in the men's 60-meter final, I would have finished dead-last by 1.43 seconds. I mean I would have finished behind Tulsa's Bryce Robinson, who came in eighth in an eight-man field.
TCU's Ronnie Baker won the 60 in 6.47, which was the third fastest time ever recorded by a collegian indoors.
Here's a fun fact: The men's 60-meter final was the fastest final ever in the history of the NCAA meet. Five men went 6.60 or faster.
I guess you could say that went 0-60 real quick slow.
Here are a few other thoughts from my weekend in Birmingham, Alabama.
Indoor track & field meets always seemed to crawl by when I competed in them, probably because there were so many heats. That wasn't the case this weekend. I don't think I had a chance to catch my breath — or run back up to the press box — between finals on Saturday.