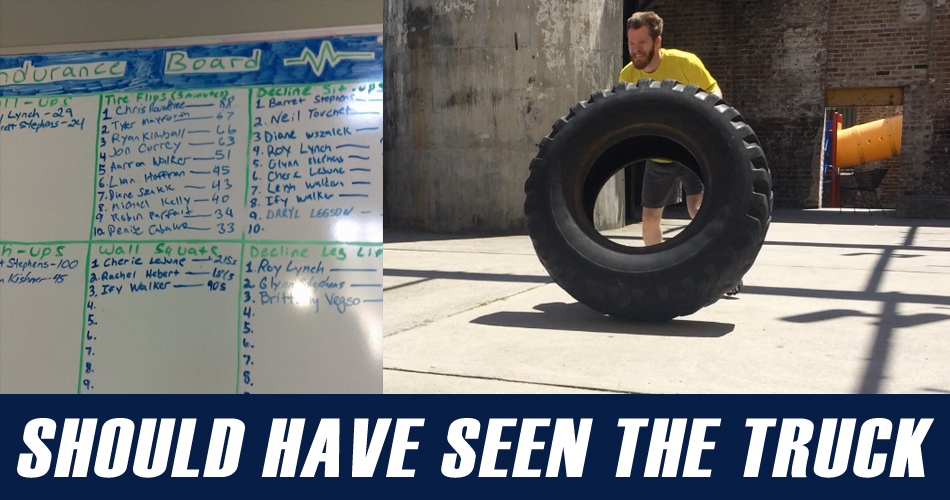 Working Out, 504 Fitness And The Board
It's hard to miss.
Whenever I walk in the weight room of 504 Fitness, I see it.
Placed on the wall in the back, right-hand corner is "The Board."
Well, actually there are three boards — one for men's powerlifting records, another for the women's powerlifting records and the third (the one I pay attention to most) is the "Endurance Board."
Every serious gym in which I've worked out — namely 504 Fitness and the San Marcos Athletic Club (SMAC, for those of you in the know) — has "The Board." It's there for competition and "positive motivation," as it says on the one down here.
I know I'm never going to bench 350, deadlift 400 pounds or squat 450, so those boards for the lunkheads — and I mean that in the most endearing way possible — are off-limits for me. Instead, I turned to what got me to the dance in the first place: my stamina. That's how the "Endurance Board" stole my gaze in 504 Fitness.
There are 10 different categories in which you can test your muscular longevity, but I focused on tire flips and how many you can do in five minutes. To get on the men's half of it, I think it takes 36 (Record is 88), so I decided I would at least be able to get 40 based on my current fitness level. I also figured I would make Saturday my "tire day," since it's usually a basic, odds-and-ends workout in the gym anyway.
The first time I flipped the tire, I got 55. I surprised myself.
Now you're tired, huh? Flipped you 55 times in 5 minutes. Next week I go on the Endurance Board. #fitness pic.twitter.com/XCiz9PfEU4

— Tyler Mayforth (@tylermayforth) April 23, 2016
Much to my chagrin, though, the guy who writes your name on "The Board" has to see you accomplish it, so it didn't count as I was one of the only people in the gym at the time. I understand that logic, because someone could say they did 55 and well…
The next week I went in determined to set a personal best and lo and behold, the guy wasn't there that time either. I gave it another go and managed 60.
Two more weeks passed and our paths finally crossed: It was game time.
One flip at a time I worked my way up and down the breezeway. I matched my old mark of 60 with about 45 seconds left (It's a luxury to have someone else time you. I timed myself those other occurrences and valuable seconds elapse when you have to run back and check your phone) and pushed on. When the tire finally settled and I was thoroughly exhausted (Got quite light-headed and wobbly-legged), I had done it 67 times. That's good enough for second place behind the standard holder.
Long story short, my name is now on "The Board" and it feels pretty good.
I honestly don't think it matters what tangible carrot dangles in front of you, though, because once you finally taste it, you'll try your hardest to munch on it once again.
Edit (July 16): So I got back in there again for another go at the tire and hit that Barry Bonds number (73). I don't know where those other 15 will come from to tie the record, but I'm going to try my best every month. Slow and steady, right?
"I want to see exhaustion," he said.

"No problem."

Hit that @BarryBonds number on tire flips – 73 in 5 mins. pic.twitter.com/OvMbpMHUXU

— Tyler Mayforth (@tylermayforth) July 16, 2016