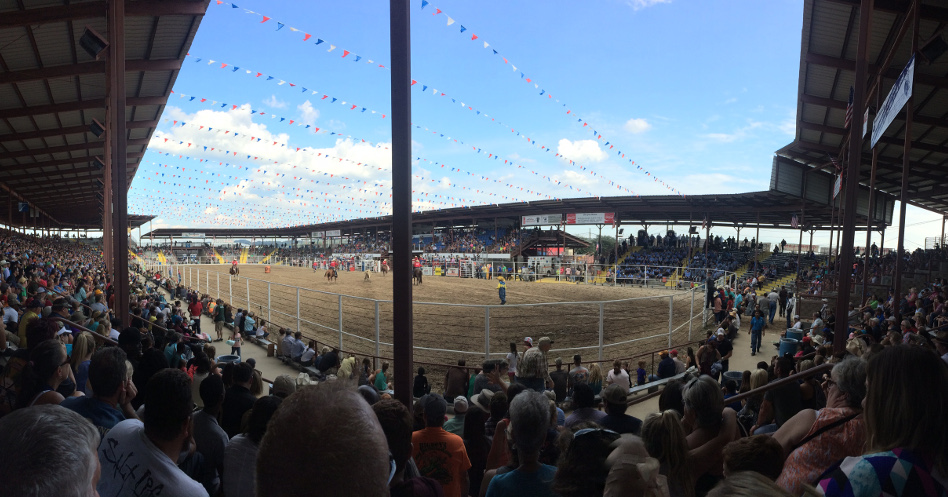 A Wonderful Visit To Angola Prison (Rodeo)
The Louisiana State Penitentiary is a great place to be.
Let me clarify that: It's a fantastic spot on a sunny Sunday in October.
I don't think I'd want to stay there. The Angola Prison isn't the Ritz Carlton.
Every year the largest maximum-security prison in the United States puts on a rodeo that features inmates as competitors. Inmates also sell arts and crafts and other wares they build inside the barbed-wire-topped walls (a lot of furniture).
I heard about the Angola Rodeo from rodeo industry folks I met in Texas while covering the Wimberley VFW Rodeo all of those years. Many of those Protection Athletes (or clowns as they're more commonly known) have it on a Bucket List to work "The Wildest Show in the South," because of its history and legacy.
Rodeos have a soft spot in my heart after living in the Lone Star State. I got some great clips and memories from my trips to Wimberley and if I have a chance to go to a local rodeo from now on, I'm definitely jumping at the opportunity to do so.
Well, I found out the Angola Rodeo runs every Sunday in October and with no plans to speak of on opening weekend, I bought two tickets and asked my buddy James to tag along. He readily agreed and at around 10 a.m. on Sunday, we left New Orleans.
The Louisiana State Penitentiary is about 2 1/2 hours from New Orleans, located in the middle of nowhere. It's surrounded by swampland, the Mississippi River and sits near the border of Louisiana and Mississippi. The drive is gorgeous once you get out of Baton Rouge. You pass plantation after plantation (well, former plantations now) and see roads lined with old trees covered in Spanish Moss.
As we passed through the gates, something I said to a guy at the gym earlier in the morning dawned on me: "I woke up excited to check out a rodeo. The inmates who are going to be at the rodeo are just happy to get a very small taste of freedom."
The biggest nuance I loved about the Angola Rodeo was that they didn't often send inmates out one by one during competition. They'd send eight men on eight bulls or teams of three trying to wrestle a steer. Then there was Inmate Pinball, where eight men stood inside hula hoops and a bull charged out of the gate. The last man inside his hula hoop would be declared the winner. The same thing goes for Convict Poker, but that's where four men sit around a folding table and the last man sitting wins.
We left 20 minutes early to beat the traffic, stopped in Baton Rogue to get dinner and watch the last two quarters of the Saints game. (As an aside, I went to another Saints game last Monday. Unfortunately they lost to the Atlanta Falcons.)
Overall it was a very pleasant Sunday and recommend the rodeo to all.