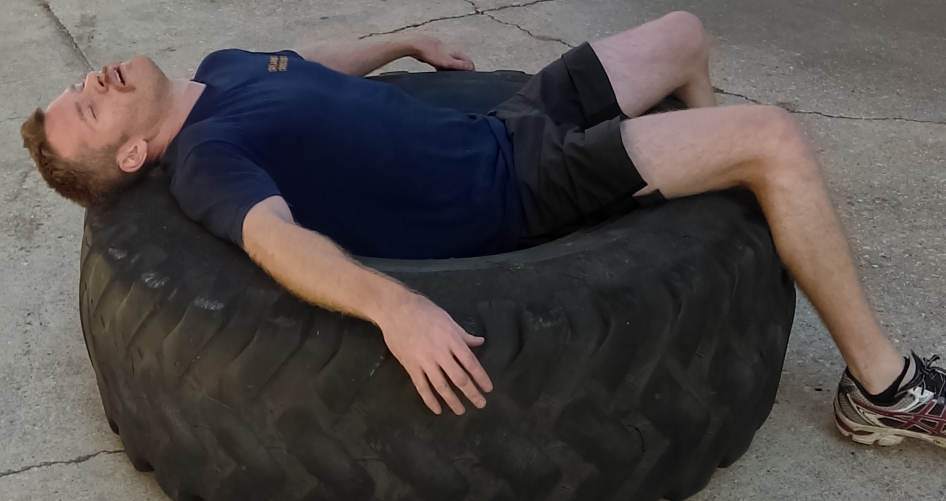 Flipping That 504 Fitness Tire Until My Body Can't Take It
Before last Saturday I had never thrown up from a workout.
If you've read this blog at all since it's creation, you know I love to stay active, go to the gym and that I was a former Division I cross country and track & field athlete. In other words, there have been no shortage of opportunities for me to blow chunks.
I just never did. My body had never found its breaking point.
That all changed this past weekend when I flipped the tire once again at 504 Fitness.
It had been a while since I last attempted that challenge. You know, the one where you have five minutes to flip a 400-pound tractor tire as many times as possible.
I woke up last Saturday feeling good and decided to give it another go. One check of the weather revealed that the temperature had finally cracked and it much cooler than it was the last time I went out there (60 degrees versus 92 and humid),  so it was all systems go and I set my eyes on 90 flips, which would break the gym record.
I started strong and even had a small cheering section out there (two people).
I hit 20 flips per minute for the first two minutes and put myself at 65 with three minutes to go. I dug deep with each one and even impressed myself with that pace.
Then I hit the wall — and I hit it hard.
Each flip brought me closer to the record, but the tire got heavier and heavier.
By the time the last flip rattled off the cement ground, I broke my own personal record of 80 flips. I managed 82.
Jon asked to take a customary picture to show my exhaustion afterward and I obliged, sprawling out on the tire. I could have fallen asleep on it right there.
I walked around the gym a bit, then went outside. Breakfast wanted to say "Hey."