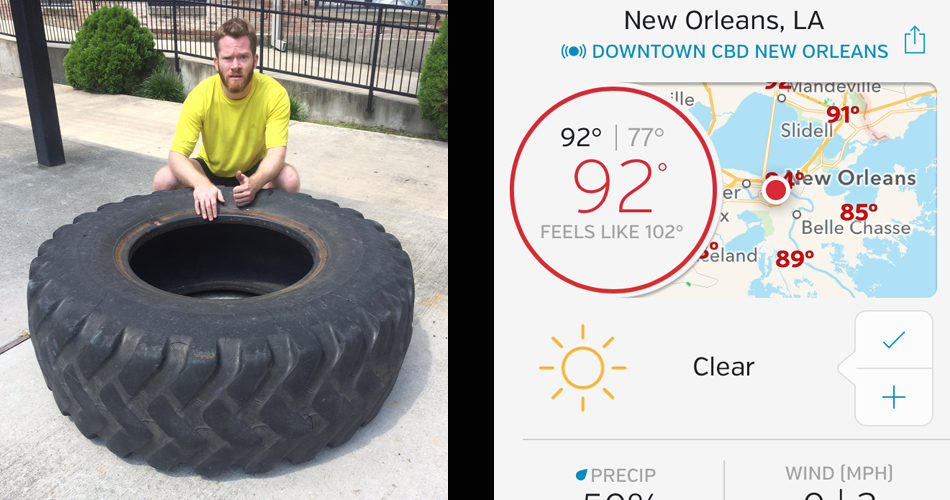 Back At It Again: Tire Flips At 504 Fitness
To say the weather wasn't ideal for tire flipping last Saturday would be an understatement of the century.
Then again, it's September in New Orleans. What else should I expect?
The temperature sat in the low 90s, but with the Heat Index, it felt like 102.
As soon as I got into the courtyard outside 504 Fitness, Jon laughed and said, "You sure know how to pick what days you want to do this. Better you than me today."
Inside the gym I told him I wanted at least 75 flips. That would be two more than my previous best of 73 and average out to 15 flips per minute. Plus, knowing the No. 1 guy on the board was no longer at the gym and The Board is only for current folks, I'd slide into the No. 1 spot and desired to better my mark before that happened.
Once I got in the heat, I questioned if 60 were even possible. It was brutal.
One by one, though, I turned the 400-pound tire end over end. I felt stronger than I ever had doing it, but didn't want to push myself too hard, too soon, and pass out.
Jon yelled "60" right around the 3:30 mark, so I knew something was going right for me as sweat poured down my face.
Thirty seconds later, "70" echoed through the courtyard and I pushed harder. Jon urged me to keep moving. Constant movement is key.
One thing I've found over the years of being an athlete is that there is no better competition than what fuels you from inside. You are your No. 1 rival.
By the time the tire thundered on the ground from the last flip, I smashed by personal best of 73 with 80 flips. That's 16 per minute, five more than I wanted.
I'm proud of my progression, but I know I can do more. I'll have to wait until next month to attack it, because once a month is more than enough of that.