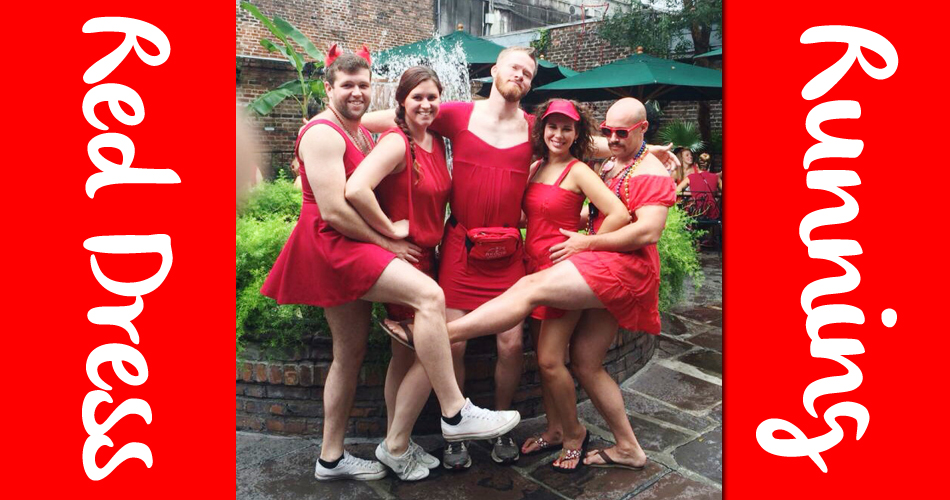 Red Dress Run-ning In New Orleans
Of all the things I've called to tell my mom — and believe me, there have been a lot over the years — what I told her two weeks ago definitely set a new standard.
"My shoulders are impossible to fit in a dress."
She responded as I expected. Then I told her why I had been dress shopping.
Every August in New Orleans, there is an event called the "Red Dress Run." It's a charitable fun run put on by the New Orleans Hash House Harriers, which deems itself "A Drinking Club With A Running Problem." Last year, according to the New Orleans Hash House Harriers website, the Red Dress Run raised $169,000 for 73 local charities, which is no small feat and a great way to give back to the community.
Outside of Halloween, I don't think I'd ever wear a dress. I put that disclaimer out there because I did dress up as a cheerleader a few years ago when I was in Texas.
At the same time, I never before lived in The Big Easy where an old axiom goes, "We don't hide the crazy. We parade it down the street." You quickly understand that.
When in Rome, right? So off I went to Goodwill and found two dresses that could actually fit me and ended up buying both because I'm as indecisive as the day is long.
Overall, I had a blast and the French Quarter was filled with revelers. New Orleans knows how to throw a party and Red Dress Run is no different than anything else.
This past weekend also marked a milestone of sorts in my life. On August 10, 2015, I officially arrived in Louisiana and exactly one week later, I started my current job as communications assistant with the USTFCCCA (Say our acronym 10 times fast).
With Red Dress Run in the books, I've officially experienced the gamut of things this city has to offer, whether it be a Saints game, carnival season or a music festival.
They say once you're in New Orleans for a year, you'll know if you want to stay for a while. With such a wealth of activities, I can understand why people never leave.