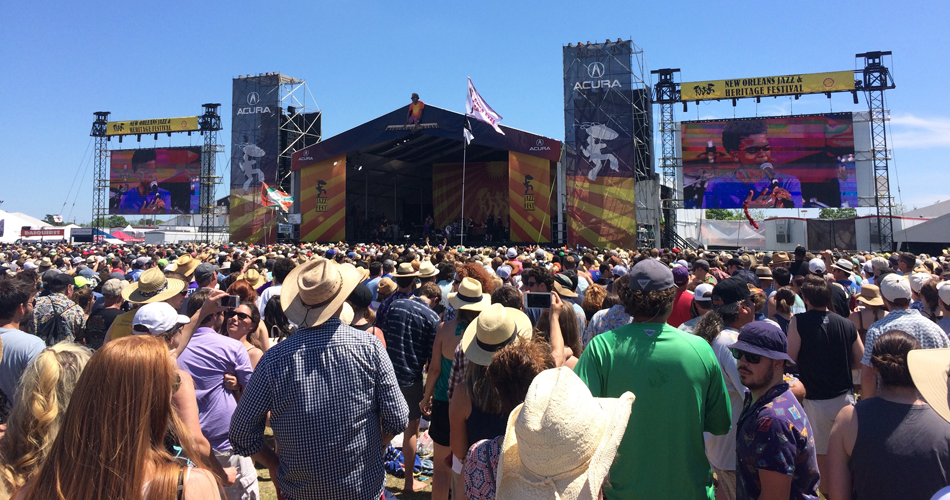 It Was The Fest(ival) Of Times In New Orleans
Of the many things New Orleans does right, festivals and Mardi Gras are on top of the list. Seeing as I already experienced my first Carnival Season, it was time for me to knock off another huge item on my Big Easy Bucket List — Jazz Fest.
For those uninitiated, Jazz Fest — formally known as the New Orleans Jazz & Heritage Festival — is a two-week celebration of culture and music held at the New Orleans Fair Grounds Race Course. It started in 1970 and has since grown into a destination music festival for hundreds of thousands of fans due to the wide variety of artists booked for both weekends, ranging from No Doubt to Neil Young and just about everything in between.
Two days caught my eye the most: the first Sunday and the final Saturday. Red Hot Chili Peppers and J Cole headlined the former, while Snoop Dogg and the legendary Stevie Wonder would close the latter. Fortunately I secured tickets for both days.
The first Sunday, as you can see from the picture above, was absolutely beautiful. There were very few clouds in the sky and the sun scorched down, which made my fair skin a target. Needless to say I forgot a key ingredient for "festing" — a hat.
The next Saturday wasn't as lovely from a weather standpoint. Ominous clouds hung overhead and eventually it let loose with more than two inches of rain in less than two hours' time. The Fair Grounds quickly turned into a knee-deep marshland.
A common theme tied together both days, though: Fun.
It didn't matter what the weather did: People were going to enjoy themselves at Jazz Fest whether the sun beat down or the rain left knee-deep mud around.
Sure, I would have loved to hear Snoop Dogg and Stevie Wonder just as I did Red Hot Chili Peppers and J Cole, but it wasn't to be. What the second time out there lacked in music made up for in company and good vibes as no one in the tent we were hanging out in allowed the rain to dampen their spirits.
I can see why festivals are a big thing down here. Can't wait for Voodoo.