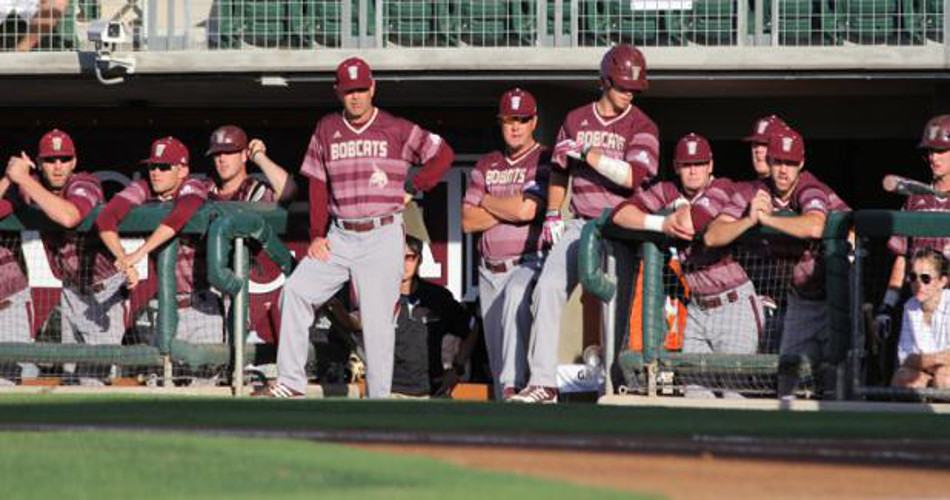 On Texas State Baseball Beating Texas And Why I Still Care
The streak is over.
Don't worry, Shocked Undertaker Guy: I don't want to give you flashbacks. After all, I was in the Superdome with you on that fateful day in 2014 when The Undertaker was pinned in the center of the ring by Brock Lesnar at WrestleMania 30. I'd say I was shocked, but not nearly as flabbergasted (Good word, right?) as you were.
The streak to which I am referring is this one…
BOOM. Texas State 3, Texas 2. The Bobcats snap 24-game losing skid against the Longhorns. First win since April 27, 2005.

— Joe Vozzelli Jr. (@JoeVozzelli) May 18, 2016
You read that right. It had been 11 years since Texas State beat Texas in baseball.
I lived in San Marcos, Texas for a little more than six years (December 2007 until July 2014) and never saw the Bobcats upend the Longhorns. It was borderline maniacal how many times Texas State got within centimeters of beating Texas, just to watch a game slip away in the final innings.
Two come immediately to mind…

GOLDY (@Todd_Rosiak) – https://t.co/salqeI7CSX

Smith – https://t.co/cBBSVsxZhd https://t.co/cIFcuzBqmt

— Tyler Mayforth (@tylermayforth) May 18, 2016
Both of those games were one-run losses.
The first was a 6-5 loss in the Horns' first trip to San Marcos in the history of the series and that was arguably the best team the Bobcats ever fielded with the top of the lineup consisting of Texas State greats Tyler Sibley, Bret Atwood and Paul Goldschmidt. That loss stung Bobcat fans since a few calls by the umpires swung momentum of the game, yet Ty Harrington's team still had chances to win.
The second came the next year in Austin where first-year pitcher Carson Smith (who is now a member of the Boston Red Sox) started one of his first games in a Texas State uniform. Smith, who admitted after the game to not knowing about the Bobcats' past struggles against the Longhorns, twirled a gem. The pitcher with a three-quarters delivery struck out eight and held Texas without a run for 6 1/3 innings. The floodgates unfortunately opened when Smith tired and the bullpen couldn't stem the tide. The Longhorns scored one run in the seventh to make it 2-1 and answered Texas State's solo run in the eighth with three of their own to make the final score 4-3 and to add another one-run loss to the Bobcats' tally.
Now some of you are probably wondering why I just typed 340 words about a team I haven't covered since 2014. That's ages ago in the sports-writing world and even longer in my career arc (I have since moved twice — from Texas to Athens, Georgia and then again from Georgia to New Orleans, Louisiana where I am currently working for the USTFCCCA).
I guess I can't get Texas State completely out of my system. When you spend nearly seven years of your life in one location covering one program, you get attached in a way you never thought you would. Not only to the people, but the town. That's why I had to collect myself as I drove away from San Marcos on Highway 80.
Well done, Bobcats. Enjoy this one. Don't riot too much on The Square.