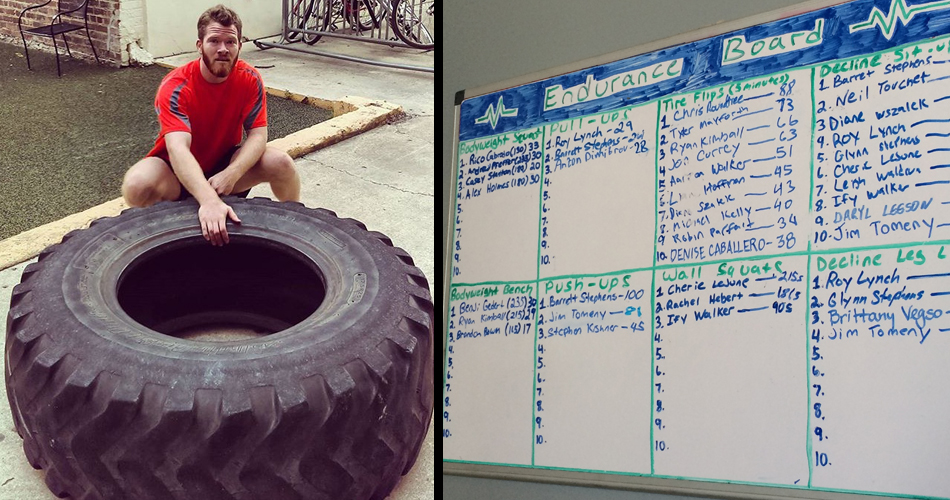 504 Fitness Chronicles: Exhaustion, PRs And Tire Flips
I only felt complete, total-body exhaustion twice in my life.
The first? Back in 2010.
The second? Last weekend.
Six years ago I participated in The Avia Austin Triathlon. Held on Labor Day Weekend on Lady Bird Lake every year, entrants have a choice of either competing in the sprint or the Olympic versions. The sprint triathlon is comprised of a 750-meter swim, a 20-kilometer bike ride and a five-kilometer run. If you jump up to an Olympic triathlon, the distances are doubled (1500, 40, 10) — as is the pain.
I chose the latter to push my body and to atone for a mistake I made the previous year. In 2009, my parents came down to watch me take on the sprint version, but after I miscounted the laps I needed to do on the bike (two, instead of one), I auto DQ'd myself. I still "finished," but wasn't considered an official finisher.
Temperatures reached the mid-90s as I tried not to drown, pedaled my way through the streets of Austin and got enough feeling back into my legs to where I could make up some ground and time over the final 6.2-mile run.
Somehow I willed myself to the finish line in 2 hours, 55 minutes and 44 seconds. That ended up just four minutes longer than the average male finishing time.
I think 30 minutes passed before I moved from my spot on the ground in the hospitality tent after the race.
Fast forward to last weekend.
I stared down the 300-pound tire at 504 Fitness. We have our share of history.
I told Jon, who came up with the idea of The Endurance Board at 504 Fitness, that I wanted 70 flips to break my old personal best and put some distance between me and third place.
Humidity wasn't my friend as I churned out flip after flip after flip… Let's be honest, though: Is humidity ever anybody's friend during the summer in New Orleans?
With less than 30 seconds to go in the five-minute time limit, I blew past 67 and topped 70. How many more could I squeeze out of my body?
71… 72… 73.
My body ached and constellations began to form in front of my eyes.
"Get near the tire," Jon said. "I want a picture for my Instagram."
"Give me a second."
"No. I want to see the exhaustion."
"No problem. I got you, fam."