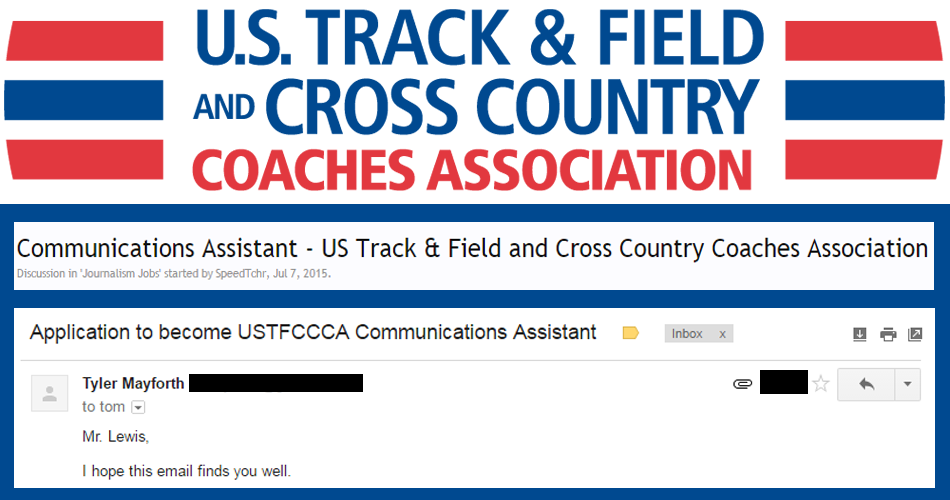 One Year Ago: USTFCCCA And Taking Control
It caught my eye like a beautiful woman wearing a red dress.
The headline on SportsJournalists.com read, "Communications Assistant – U.S. Track & Field and Cross Country Coaches Association."
The body included words and phrases like "writing" (It could have really stopped there), "producing video and/or audio content" and "social media platforms."
All of that was up my alley and I was ready for a fresh start. I felt as if I neared the end of the line in Athens, Georgia and my itch to write, produce podcasts/videos and build a social media following again could not be ignored any longer. Plus, I had extensive experience competing in collegiate cross country and track, so it added up to be an opportunity I couldn't let pass by.
This happened one year ago today. I had just returned to my apartment after a long day at work and fired up my computer because I knew better things were out there.
Cover letters are my arch nemesis, but something about that one flowed from my fingers. Yet I waited two days to send it to make sure it was exactly how I wanted.
To say things moved fast after I sent my application would be an understatement.
The following day I received a response and within a week they interviewed me for the position.
Not long after that, they offered me the job when I was on my way to Atlanta for the CONCACAF Gold Cup semifinal match between the U.S. and Jamaica.
I don't know if they were desperate to hire someone or that my resume truly stood out among the other qualified candidates, but regardless, the offer was made.
I mulled on it for a while, debated the pros and cons and ultimately — like I stated before — it was an opportunity I couldn't pass up. I accepted the position to join the USTFCCCA staff and put the wheels in motion to move to New Orleans.
The rest, as they say, is history.